I played stuff
Relatively recently, I played three adventure games that were fairly compelling and impressive, but only one really blew me away. Two of these adventure games were by, arguably, the greatest designers of the genre: Ron Gilbert and Tim Shafer, in their great return to adventure game design. One was by a rather meek newcomer: Swedish independent Natalia Figueroa. This post is about how Ms. Figueroa blew me away.
Now one could argue that my expectations were very high for Schafer and Gilbert and very low for Figueroa, and that would be true. But that's not where their games differed. Ms. Figueroa's game shone in a very different and much simpler way.
The three games are the following: Tim Schafer reignited the flame of adventure games and probably strongly contributed in making Kickstarter a valid platform by using it to fund the adventure game that would eventually become Broken Age. Ron Gilbert followed suit with Thimbleweed Park. Natalia Figueroa also funded her game through crowdfunding, though in her case it was through Indiegogo. She made Fran Bow. Fran Bow was released shortly after the second part of Broken Age, a year and a half before Thimbleweed Park.
Broken Age
Broken Age is meticulously designed, masterfully executed, innovative, charming and probably does not contain anything seriously wrong.
First, as one should expect from Tim Schafer, the art of Broken Age is executed in an extremely thorough way. The backgrounds are superb. The animation is simple, expressive and memorable. The voice acting is fantastic and some of the voice talent in Broken Age is performed by famous Hollywood and TV actors.
The basic premise is that, as the title indicates, the player is offered to play as either Vella, who seems to live in a idyllic fairytale-like world or Shay, who lives in a science fiction-like world. Neither world is fully coherent and both have details that just look wrong, or sometimes just elements that just don't belong. Still, neither Vella nor Shay's story seems to clearly connect to the other. The game is clearly divided in two parts and the implicit purpose of the first part is to figure out the connection between the two main player characters and their respective worlds. This is in addition to the general goal of the adventure game which is always to move the story forward.
This is a compelling premise. Shay and Vella seem to be separated in every conceivable way: one travels through space, one is stuck in a small area of land. One seems to live centuries after the other. Although, conceivably, Vella could be living on one of the planets Shay visits. Still, both characters are kept a distance that's just effective enough to keep the player digging and seeking.
Shafer is no stranger to multicharacter adventure games. He's mostly famous for Full Throttle and Grim Fandango, but I would still argue that his masterpiece is Day of the Tentacle, where the player had control of three extremely expressive characters, Bernard, Hoagie and Laverne, each separated by two hundred years in time.  The time puzzle of Day of Tentacle, which are at the core of the multicharacter aspect of the game, are one of its more memorable parts.
That is, if it works. And while the mystery of the connection between Shay and Vella does work, without a doubt in Broken Age, it's not enough to keep the two parts connected. Not even in the second part of the game when they are connected not just through the continuous deepening mystery of how they are linked, but through specific puzzles and therefore through gameplay.
The problem with Broken Age
And this is one of many ways in which Broken Age fails. For all of its meticulous attention to detail. For all of its exquisite art, delightful details, charming mood, stunning reversals and surprises, it feels unfinished, empty, hollow.
Not just that: it feels unfinished because it is too detailed. I know that sounds strange. Let me explain. It feels as if if more resources had been assigned into content and less into art, the game might have felt fuller, more meaty.
But it does not. Shay's ship feels pretty small and empty. Shay, for reason that eventually become clear, never actually leaves his ship in part one of Broken Age. Vella does get to explore her land, but not very far. And she does not get to know that many people. And the people she does get to know are interesting, but she never seems to be able to interact with them that much.
Guybrush Threepwood from Monkey Island games, the three characters from Day of the Tentacle or April Ryan and Zoë Castillo from the Longest Journey games all seemed to be able to enter and touch much deeper, more complicated, more tangible, messier at times, fuller worlds. In comparison, the worlds of Broken Age feels like a empty template of what it could have been. It feels short. Like a thin slice of a wonderful, but overly decorated cake.
After I played it, I thought that Ron Gilbert, were he to make an adventure game, would focus less on voice and graphics and more on content. He'd give us a big, complex, deep, mysterious story with meaningful interaction. And that's still what I expected when Thimbleweed Park was finally announced.
Thimbleweed Park
When I saw the opening screen of Broken Age, I knew nothing about the game. I didn't even know I'd have to begin by picking between two characters. I wanted to start playing as a complete blank slate. But when I came to Thimbleweed Park, I wanted to keep on top of things. I followed the blog. I even contributed. I made up a title for the bookstore and I wrote three books for the library.
Thimbleweed Park is also a multicharacter adventure game. It starts as a murder mystery. A body has been found in the eponymous Thimbleweed Park in 1987, an decaying city. The player controls five characters, including two FBI agents, a young game designer, her father, and a clown. The game is full of references to old games designed by Ron Gilbert, Gary Winnick and their colleagues and seems to target, at least in part, their long-time fans.
Just like I had hoped, Thimbleweed Park did not look too polished. Ron Gilbert seemed to be focused more on content than on presentation. Again, I do not and would never deny the importance of presentation, but I am curious about a game where most of the effort is focused on creating deep, meaningful content. Ron Gilbert's blog entries talked a lot about storylines and about puzzles. There were a lot of posts about art too, but the art seemed to be kept efficient, and manageable.
When I remember Ron Gilbert's main games, the Monkey Island games as well as Maniac Mansion, they were not just interactive stories, but they were worlds with strong storylines that the player could fully explore in a narrative way. Not in an RPG way. There were no monsters to kill, but you could make any joke available to any character without fear of consequence, just to see how they would react. That's a narrative form of exploration. At the same time, the secrets of these worlds would slowly be unveiled to you. I was hoping the new game would be like that.
The problem with Thimbleweed Park
But to me, Thimbleweed Park was not like that. That world, while intriguing, seriously lacked tension. The mysteries felt flat. The jokes were interesting references, but were not funny. I found one character truly compelling: Delores. Franklin, her father also came off as sympathetic, but mostly again because of the way he related to her. Delores was a fully-realized character. He story was interesting; he dialog was funny; her goals were easy to identify with; the mystery around her was truly puzzling. And the gameplay that came out of that was truly fun. But it also underlined how flat the other characters' storylines felt in compasion.
Still, overall, my main objection with Thimbleweed Park was how arty it felt. Usually, I approve of artistic ambition in games, but in this case, it came at a very costly price. The game starts with an actually intriguing murder mystery. However, as the game progresses, it slips into a completely meta reflection on itself. This is daring and I'm not sure that the game pulls it off. As banal as is sounds, if we had explored the connection between each citizen of Thimbleweed Park and the murder victim, I think it might have made for a more interesting game.
I would also like to point out that I've played the game shortly after its release. At the time, the characters could not talk to each other and there was no hint system. Also, there arcade was closed. I have not played the game since, mostly because I did not enjoy that much the first time. But this inability, now fixed, for the characters to communicate felt terribly wrong. It made the whole world of Thimbleweed Park feel hollow.
Fran Bow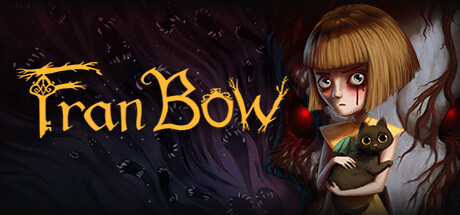 Fran Bow follows an episode in the life of its title character, a young girl called Fran Bow, who lives in New England in the US in the fifties. In a very long intro scene, we learn has no friends, except for a pet cat. One night, a horrifying creature kills her whole family but she and her cat escape. She ends up in a mental asylum. She is certain that her cat is still alive in the forest. There, she is treated with an experimental medication that gives her terrifying visions. Realizing that, her doctor immediately stops her treatment. But Fran thinks that these pills can help her find her cat.
The game has a very simple interface. Fran can walk, look at things, use things, use dialog trees (always with two options), and swallow a pill. Under the influence of a pill, she can close the pill bottle, with will stop the pill from being effective. While the pills are in effect, she has visions. And, of course, her visions are real. But the player is quickly challenged to questioned what "real" means.
The dialog seems to be written by someone whose native language is not English. There's an overuse of the phrase, "It's fine." The graphics are a bit clumsy. At first, the puzzles are fascinating, but towards the end, I'd accuse the game of puzzle-stuffing. By that, I mean that Natalia Figueroa seemed to want to tell a story but was making a game so she interrupted her story with puzzles that didn't really need to be there. There are all details. Trifles. Overall, I would argue, that Fran Bow is a true masterpiece. More so than either Thimbleweed Park or Broken Age.
What works with Fran Bow
Fran Bow perfectly mixes a deep, complex story with compelling gameplay. It's hard to talk about without giving too much away but there's one thing that I can say with confidence about Fran Bow: at every step of the way, I thought, "Oh, I know exactly where this is going" and at every step I was wrong. The game was several step away from me. This was true of both the story and the gameplay and in both cases, they were really the same thing.
This also happened for Thimbleweed Park, but not in the same direction. I'd think, "Oh, I think I know where this is going…" but it went in a different direction but I wish it had gone in the direction I had wanted. That's less good.
Fran Bow plays with its own rules constantly, but never ignores them. For example, you think you know how the pills work, but you don't. Even though the rules of how the pills work are as given to you, they never change. You just don't have all the element yet to understand what those rules mean.
Also, Fran Bow is long. Every time, I thought I was near the end, I realized I was nowhere near it. And every time I thought the tone of the game had changed completely, I realized that it really had not. I was just fooled into mistaking a temporary alcove for a whole new structure.
Fran visits deep, complex worlds. She interacts with strange, complex people. She herself is worth getting to know. Her world is fascinating and full. Fran Bow also shows strong authorship. One can clearly tell is is the work of a dedicated author with a vision. It has flaws, but its flaws make it better. It allows to hang onto it, unlike a completely smooth surface that a player or other art appreciator would just slip off of.
I have no idea what Natalia Figueroa will do next. I'd say there's no way she'll do something as good as this next time, but, honestly, there was almost no way she'd do something nearly as good as Fran Bow the first time, so, in all fairness, all best are off.
Final note about Thimbleweed Park
One thing about Thimbleweed Park that is probably worth noting is its engine. Based on the game's development blog, it looks like the engine for Thimbleweed Park could be an amazing tool to make new adventure games. Ron Gilbert, who was, after all, the lead developer of the legendary SCUMM engine, put a huge amount of effort into making it. He did say he would consider releasing the engine but made no promises.
It is not unheard of that when a game splits its effort between its content and its engine, it cannot deliver as much of its content as one might hope. I'd argue that's why the first Assassin's Creed had much more repetitive content than the second one. For the first game, the whole rules of how the game was played, the mechanics and most likely the engine had to be built. The second game only had to build on that.
I know a lot of people loved Thimbleweed Park. I have high hopes for its engine.